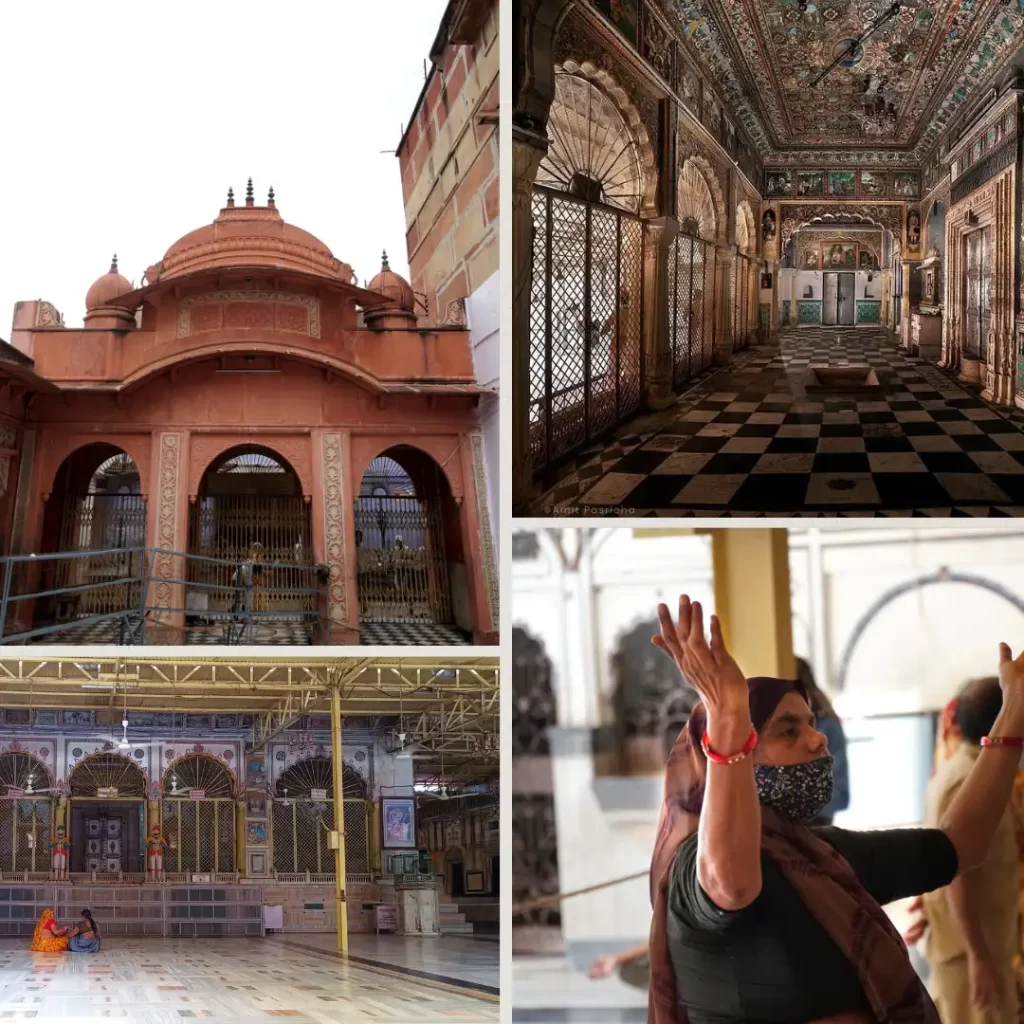 Welcome to the official website of the temple of Madan Mohan Ji in Karauli. The deity of Madan Mohan Ji (a form of Krishna) has a very special place in Vaishnav worship. The murti of Madan Mohan Ji was created by Vajranabh ji, the great-grandson of Lord Krishna, from a mystical black stone called the Brajapatthar. Madan Mohan Ji, along with Govind Dev ji, and Gopinathji, in Jaipur, form a trinity that together represents the complete form of Lord Krishna. It is said that Vajra Nabh built the statues on the direction of his grandmother, Uttara, who had saakshat darshan of Lord Krishna. To worship at the feet of Gopinath ji, the dhar or torso of Madan Mohan Ji and the face of Govind Dev ji, between a single sunrise and sunset is said to give one a complete darshan of Lord Krishna. The land of Karauliis eternally consecrated by the presence and blessings of Madan Mohan Ji Maharaj and Gopal ji and the ceaseless devotion of all Krishna bhaktas. The Madan Mohan Ji temple wishes all devotees a life of cosmic bliss and devotion in the sharan of Madan Mohan ji Maharaj.

Mangla-aarti

Dhoop-aarti

Shringar-aarti

Shayan-aarti

Badh-aarti

Dhoop-aarti

Sandhya-aarti
Rajbhog

Ullaijhanki

Mangla-aarti

Dhoop-aarti

Shringar-aarti
Rajbhog

Badh-aarti

Dhoop-aarti

Ullaijhanki

Sandhya-aarti

Shayan-aarti
Madan Mohan Temple is a Hindu temple situated at Karauli, in the Indian state of Rajasthan. The temple is located on the banks of the Bhadravati River, a tributary of the Banas River in the hills of Aravali. The temple is dedicated to Madan Mohan form of Krishna. In the central altar, Krishna is flanked with the icons of his consort Radha and Lalita on either side.
Welcome to WordPress. This is your first post. Edit or delete it, then start writing!
Join your hand with god for a better life and future